The Nursing and Midwifery Council (NMC) has approved two key changes to its English language requirements.
At its latest council meeting today, the regulator received the green light to make changes to its English language requirements, which it said it will prepare for implementation in 2023.
"This is quite clearly a very important issue"

Anna Walker
Those who have been calling for changes to the NMC's English language requirements have welcomed the decision from the council, stating that it will empower internationally educated nurses to "fulfil their dream" of working as nurses in the UK.
The first change relates to the NMC's English language tests. The NMC has agreed to standardise the minimum scores it accepts when individuals need to combine two English language test scores (see box).
In addition, it proposes to extend the period that applicants can combine their test scores from six to 12 months.
The second change will see that the body accepts "supplementary information" from employers as supporting evidence of English language proficiency for applicants who have trained in English in a "non-majority English speaking country", or who have missed the required score on their English language test.
The motion was put forward following an eight-week consultation, which received 34,000 responses, a record for any NMC consultation in the last decade.
Matthew McClelland, executive director of strategy and insight at the NMC, who presented the proposals to council, said the consultation received "really good engagements" from across the UK and various audiences.
He said there were "important differences" between the groups of people that responded, citing that those who were internationally educated, registering applications and employers were in support of the changes. Meanwhile, support was weaker among UK educated registrants and educators.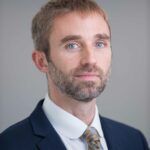 Matthew McClelland
He said that the responses had been "carefully" considered ahead of putting the recommendations to council.
The executive board considered that the proposals "will strike the right balance between maintaining the high standards of English that are necessary for safe, effective and kind practise", Mr McClelland said, while also "providing additional flexibility" for those who are already contributing to health and social care in the UK.
Mr McClelland added that the consultation also asked more open questions about what should be considered in the future when looking at English language requirements.
"We've had a number of questions specifically asking about [if there] could be greater flexibility in test scores," he said.
"We didn't make specific consultation proposals around that, so we're not recommending anything further at this point. But we will return in the new financial year to look at further work on English language."
"I render my gratitude and respect to thousands of internationally educated nurses for persevering with us during this journey"

Agimol Pradeep
During the discussion, council member Eileen McEneaney praised the NMC proposal paper for being "clear" and "ambitious".
She also gave her support for additional further work to be carried out and taken forward in areas of work that have emerged from the consultation.
Council member Anna Walker also supported the recommendations made, describing the thoroughness and speed of the consultation as "extremely impressive".
She added: "This is quite clearly a very important issue, both because we have more international recruitment taking place, and because of the importance of both patient safety and actually patient communication."
Council member Ruth Walker reminded council that she was "one of the fortunate people" who was able to meet with the group that helped to inform and raise this issue, and said it stayed with her "for a very long time".
She added that going forwards the council should consider evaluation of the changes, monitoring their success.
"If we don't get this right, then that's not right for registrants either, who could find themselves in fitness to practise processes, because their English language isn't where it needs to be. I think we will need to think about evaluation over a longer period of time."
Dilla Davis
Dr Agimol Pradeep, liver transplant coordinator at King's College Hospital, and Dr Dilla Davis, nursing lecturer at the University of Salford, were some of the people who have been calling for changes to the NMC's English language requirements.
They have been campaigning for more than two years on behalf of thousands of India-trained nurses who have been unable to pass the language test and achieve registration, despite living and working as healthcare assistants in the UK.
Speaking to Nursing Times, the pair were both overjoyed at the fact the council had approved the recommendations.
Dr Davis said: "This is one time when words fail to express the exhilaration that we feel.
"It was quite a journey: disheartening, feeling despair, hopelessness, helplessness, days we felt emotionally drained, upset and exhausted," she said.
"But today changed it all. Today is a great day that will impact hundreds of lives all around, having an impact on not just personal and professional lives, but to our NHS as well."
Agimol Pradeep
Dr Pradeep echoed these feelings: "From the depths of my heart, I render my gratitude and respect to thousands of internationally educated nurses for persevering with us during this journey.
"I want to thank Matthew McClelland and [the] NMC team for this great news. My first email correspondence to NMC was in March 2020, raising this concern and [the] last 30 months was a journey with many ups and downs and tears and joy.
"You enabled us to find justice to these internationally educated nurses and empowered them to fulfil their dream of working as nurses in the UK."
Source: NursingTimes