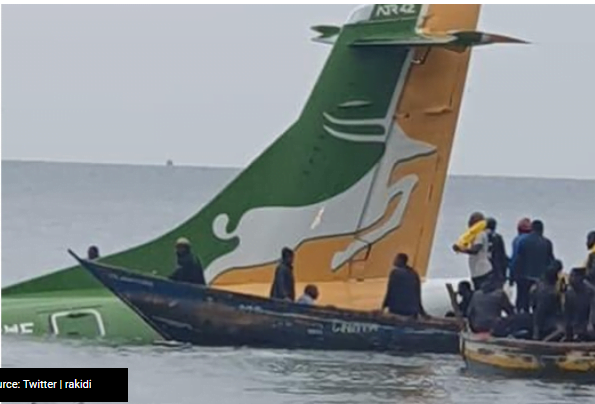 A passenger plane crash in Tanzania left at least 19 people dead, the country's Prime Minister Kassim Majaliwa confirmed on Sunday. The Precision Air flight from Dar es Salaam crashed into Lake Victoria en route to Bukoba Airport, lodging mostly submerged in the water.
So far, 26 people have been rescued from the water, according to Albert Chalamila, the governor of Kagera Region, where the crash happened. It is not clear how many died in hospital.
The jet, which took off from the country's capital, Dar es Salaam, crashed into Lake Victoria in the morning amid "storm and heavy rains," according to Tanzania Broadcasting Corporation (TBC).
The jet "encountered problems and bad weather" at an altitude of just 100 meters (328 feet), Kagera police commander William Mwampaghale told reporters. "It was raining and the plane plunged into the water."
"We have managed to save quite a number of people," the chief continued, adding that rescue efforts were ongoing. There were 39 passengers and four crew aboard the plane.
Photos and videos from the scene showed the aircraft almost fully submerged, with only its tail sticking out of the water.
The plane was surrounded by boats as local fishermen helped rescuers to look for survivors.